Login to your local store merchant account at: https://merchants.shoptoit.ca/
Click on 'Business Content' on the left menu.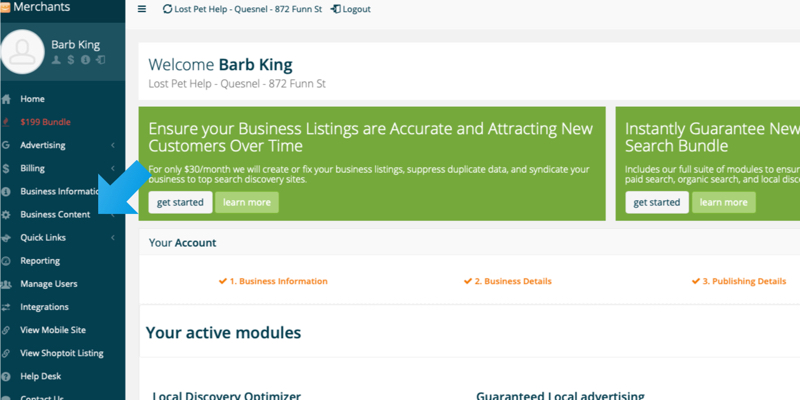 Then Click on 'Promotions'.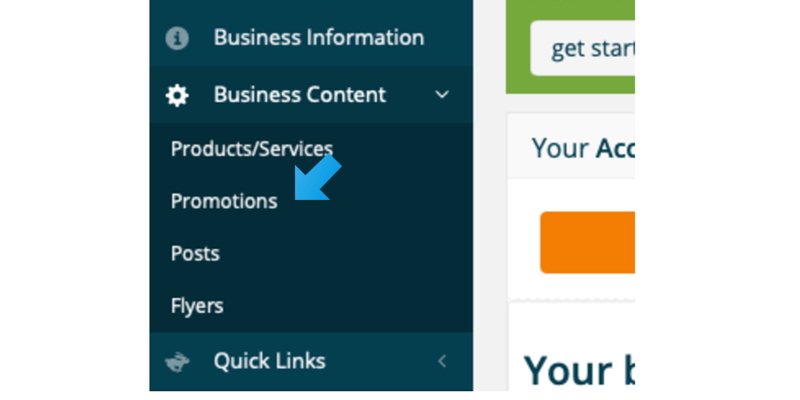 This page shows a list of all the promotions you have added to your account.
To create a new one click on 'Add a New Promotion'.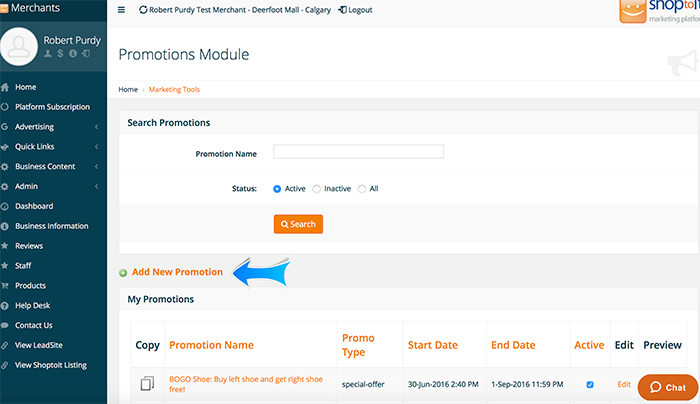 There are 3 different types of promotions that you can add: Special Offer, Announcement, or Coupon. Choose Announcement for this example.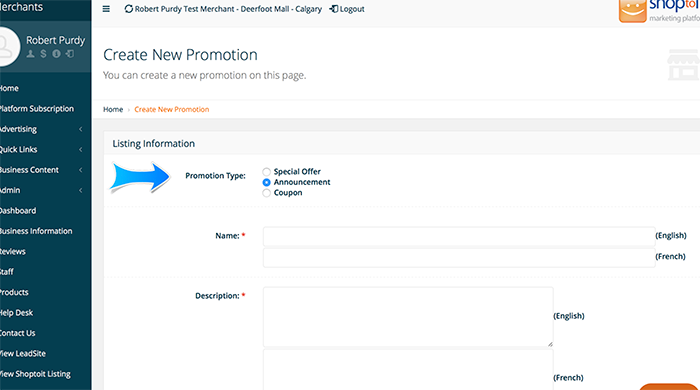 Announcements are designed to generate interest in new activity on your site or in a store location.
Sample Offer Types
Marc Jacobs Spring Collection has arrived! Shop now.

Pre-Order The Hunger Games on DVD: Release Date xx-xx-xxxx
Add promotion name. Use this field to sell your promotion. This field shows 100% of the time. Be brief, but be very descriptive.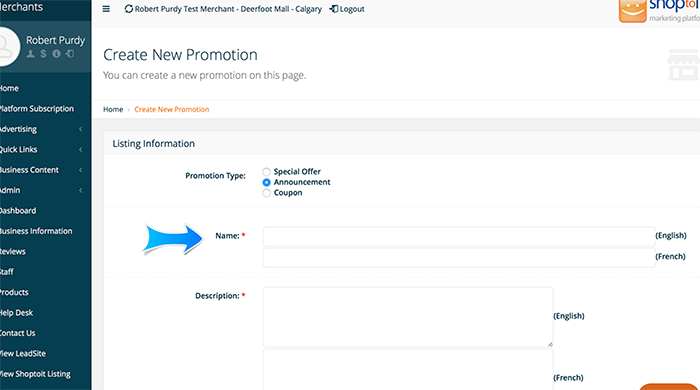 Add a description of your promotion. Keep it brief. Include only essential information that you could not fit in the promotion name.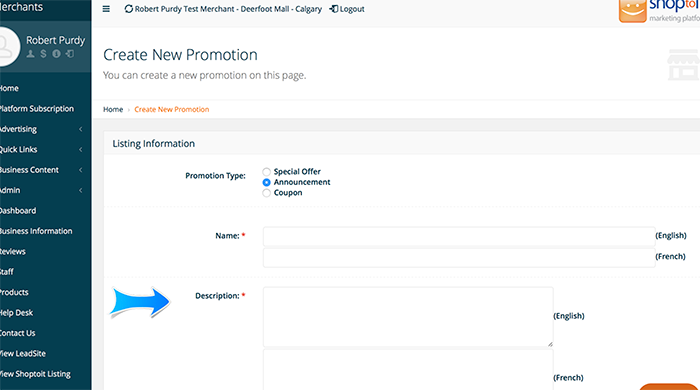 Note the 'is active' is selected by default. Uncheck this box if you do not want your content to go live.

Add start and end dates. If you set your start date for a future date it will ensure that your content does not go live immediately and it will automatically activate on the date and time you select. In the same way, the promotion will end on the date and time you select. Click on the small calendar icon to have a calendar pop up and you can choose the date.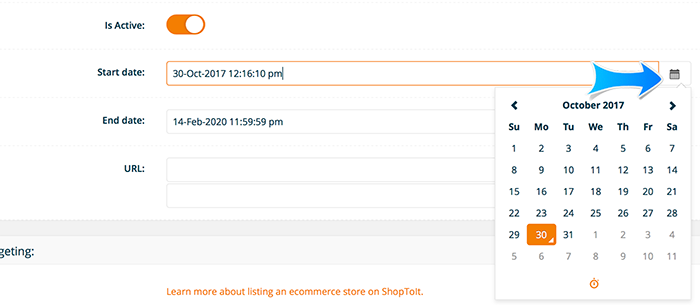 Enter the URL on your website with more details of the promotion (if applicable).

Targeting:
Please select the category, or categories, you'd like your content to display in. You cannot choose a top level category (ie. Appliances), but may choose multiple lower level categories.

Select the most relevant categories to your content so it will display to a highly engaged shopping audience.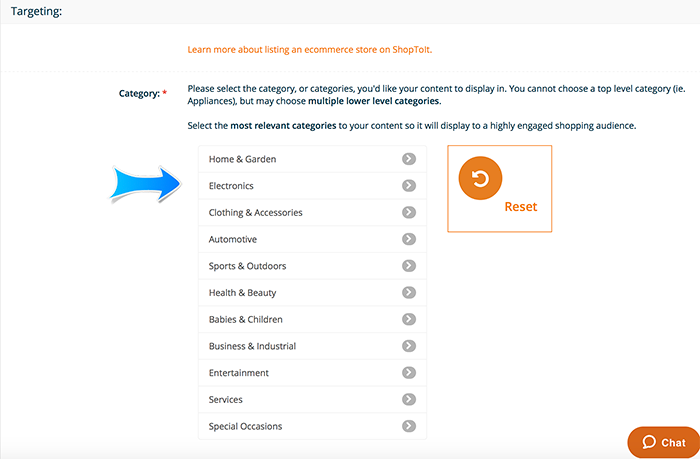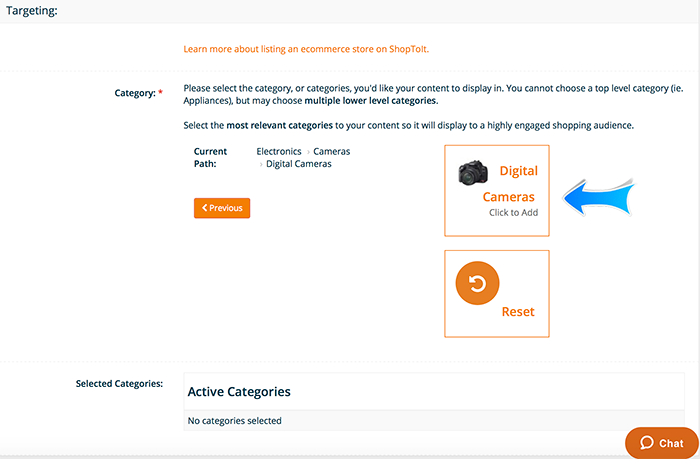 The product category will now show below the category picker.

Upload photo:
Please upload any media relevant to your promotion here. Examples may include an image, photo, bar code, QR code, or logo.

Please make photos at least 160 X 160, 250 X 250 or larger is best as we will scale the large image to multiple sizes. Also by making photos 160 X 160 they will be able to be tweeted as product twitter cards for better engagement.
Click on 'Choose File'.

Navigate on your computer to where you have saved your photo, select it, then click choose.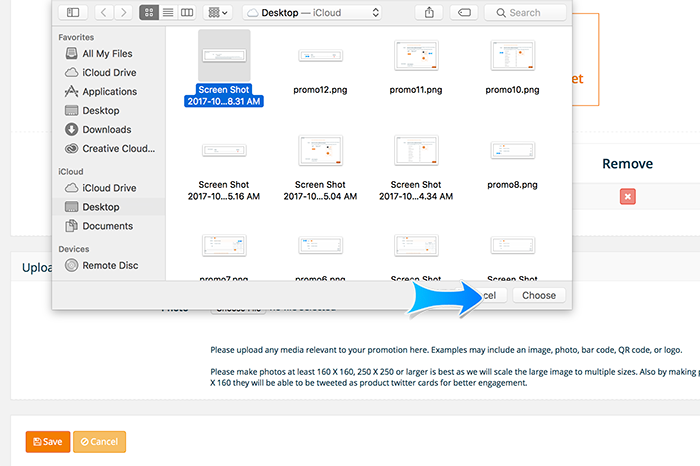 Click on 'save' to save your new promotion.

Once your promotion has been saved you have the option to send the post to your Facebook Page and/or Twitter account. (You must have already linked your social media accounts for this to post for you).