The digital shelf is a lot like the shelves you browse at any grocery store. The shopper has many choices, and presentation matters. You need to present your offerings with clear titles and accurate, up-to date inform ation.
One key to winning at the digital shelf is to understand how you want to promote your inventory. Set yourself up for success with a well-maintained feed.
Key Takeaways
Use relevant titles and quality images to increase CTR
Keep your feed accurate and up-to-date
Use Relevant Titles and Quality Images to Increase CTR
Title, description and image are the "big three" to focus on when planning your ads. Price aside, these three items have the most influence on whether or not a shopper clicks your ad.
Put the essential and relevant data right at the top.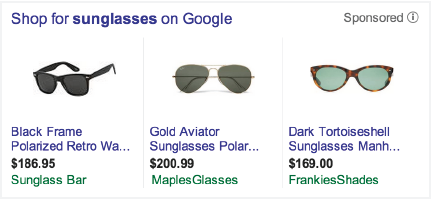 Here are some tips for writing better titles and descriptions:
Match your titles and descriptions to the search queries on which your ad appears. If the user searches for "sunglasses," make sure those words appear in the title. That kind of relevance gives customers the best possible experience and raises your chances of being matched to those queries in the future.
Start with straightforward titles and descriptions, then let your search terms report guide changes. Get rid of what doesn't work and refine what does. For example, a title reading "Loafers Size 13" can be switched to "Size 13 Loafers" if you discover that most shoppers search for size ahead of shoe type.
Use keyword-rich titles but don't stuff. Keyword stuffing is any attempt to raise relevance by repeating keywords needlessly. Forced repetition can harm your placement rather than improve it.
Watch out for truncation. The number of characters in your Product Listing Ad will depend on the ad unit being shown (usually between 50-70 characters). Leave yourself a safety buffer by using less than 50 characters in your titles.
Match your feed text to your site. Users are happier when the text on your landing page is a close match to the ad they clicked. If your ad reads "Acme 300B digital camera," make sure that the phrase is on the landing page.
When it comes to images, many of the same ideas apply: keep them simple, clear and relevant to the user's search.
Here are two good image examples:

A user who searched for a camera or sneakers is seeing exactly what they're looking for.
Now here are two less effective images: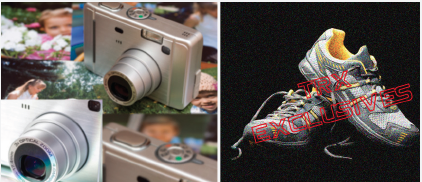 These images are too cluttered and complicated. Neither one is likely to make a user feel like clicking.
Make sure your images show the product clearly at high resolution: at least 800x800 pixels. Try testing different product angles and backgrounds to see what gets the best results.
Another important factor that leads to a strong ad is your Unique Product Identifier. It's a very important aspect of a quality feed, so be sure that yours are present and correct.
* Taken from Google's "Shape Up Your Shopping Campaigns" ebook